Gate automation transmitters and receivers are essential components in any gate automation system. They allow you to open and close your gates simply by pressing a button on the key fob transmitter you keep with you or in your car.
Finding a reliable transmitter and receiver combination is essential. There are more and more low-cost transmitters on the market. But do these provide the reliability, transmitter range and quality casing you need?
Here at Linkcare, we stock a range of high-quality transmitters, receivers and other gate installation parts and accessories that are relied upon by installers across the country.
Working with some of the biggest names in the industry, including Nice, Beninca, Came, Erreka, Fadini and FAAC, we offer our extensive range of products at an affordable price.
Shop for Gate Automation Transmitters and Receivers here
Transmitters                       
Transmitters (or remotes, key fobs or blippers) send a signal to a receiver that is housed within your gate automation control box. Without a reliable signal, the gates won't open or close.
There are two radio frequencies used in the UK and the transmitters and receivers need to match frequency. But there are also different ways that the two communicate. Some send a fixed code while others use codes that change making them harder to copy. You want to know that no-one can copy these codes and open your gates without your knowledge. But you may also need to replace your transmitters so you need to be able to copy this code onto replacement remotes.
If your transmitters are quite old, they may have been discontinued so it's important that your transmitter supplier can provide up to date replacements. If this is not possible, they may have cloning transmitters than can be programmed to copy your codes and communicate with your existing gate automation receiver.
Receivers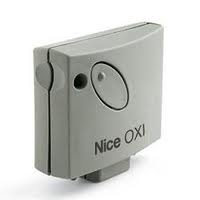 Receivers communicate with transmitters and provide the gate automation control system with instructions to open or close your gates. They are designed to work with specific transmitters. When it is impossible to replace transmitters, a new receiver that works with all-new transmitters can be installed.
If transmitters and receiver need replacing together, our Transmitter and Receiver kits are a great choice. These kits come with transmitters and receiver already set to communicate with each other.
Aerials and antennae
Receivers have built in antennae in many cases, but an additional antenna is sometimes required to increase the range of operation. If you have a long drive and open the gates from your home to let visitors in and out, an antenna can help boost the range. With very long drives, signal boosters may be required.
Access Control
Transmitters and receivers provide an effective way of opening and closing your gates. But additional systems of intercoms, push buttons and/or keypads can add alternative ways to control who has access to your property through your gates.
These access control systems include audio and video intercoms that allow you to communicate with visitors before opening your gates. There are also keypads that open gates when a code has been punched in. You can have push button gate releases installed inside your gates, or systems that open the gates automatically from the inside as you drive up to them.
Support and Advice
In addition to providing an extensive range of transmitters and receivers, Linkcare can help you to source replacement parts and accessories for existing automation systems.
We can often source hard to find transmitters that may have been discontinued. If not, we have transmitters that will copy or clone nearly all manufacturers' remotes.
If you can't find the product that you are looking for, get in touch with Linkcare – we are available at the other end of the phone!